Public transportation is increasingly focusing on major routes. No longer does a large bus pass through small villages but (sometimes far) outside on main roads. Or, in some cases, the bus doesn't operate during the evenings and weekends. This is, of course, related to whether a route is profitable or not. Most people will wonder if running an empty bus truly makes sense and if it is sustainable in the long term. However, that's just a small part of the story.
Travelers tend to prefer fast and frequent bus routes over buses that run less frequently and meander through villages endlessly. Furthermore, large vehicles are often being excluded from small villages in the interest of maintaining the livability of these areas. In addition, staffing shortages, rising costs and changes in travel behavior following the COVID-19 pandemic are forcing to make decisions on where and how frequently buses should operate. These effects are particularly noticeable in rural areas and smaller communities.
One of the solutions for these areas lies in small-scale, demand-responsive transportation. For some local movements, this transportation can be provided by volunteers, such as the PlusBus, Automaatje, or other initiatives. This is a fitting solution for various target groups. The Province of North Brabant supports such initiatives and ensures their visibility through the website Bravo.
However, a truly good connection to (inter)regional public transportation requires a system that is accessible, affordable, reliable, and available for everyone. With this in mind, there are currently several pilots in Brabant experimenting with so-called "flexible transportation": a taxi (or taxi bus) picks you up and takes you to the nearest public transport point with access to a fast and frequent bus or train. No, these vehicles are not (yet) self-driving. But what is the relationship with CCAM*?
The Brabant pilot Bravoflex makes efficient use of the capacity in the existing paratransit, called Wmo (Social Support Act) transportation. Wmo transportation is intended for citizens (target groups) who cannot arrange their own transportation independently. Municipalities collaborate to organize this target group transportation at the regional level. Vehicles can be utilized optimal, and rides can be shared. The capacity (empty seats) in vehicles that are already crisscrossing the region provides room for a small number of rides over relatively short distances. Smart ICT solutions handle the rest in the background.
A public transport traveler specifies where and when they want to travel via an app, and the system reserves a free seat in the taxi. The taxi vehicles are still operated by drivers. But even if vehicles become more self-driving in the future, the system around it will remain the same: if you want to participate, you must plan, book, and pay for the vehicle in advance. It's not like a bus that stops at the stop according to a timetable.
Participation in the Horizon Europe project SINFONICA already teaches us how passengers experience this part of CCAM. How is it for different target groups? What can we learn from this now? And if people are already encountering barriers, can we address them now? In the project, we investigate this through interviews, focus groups, workshops, and a survey. We question eight different "vulnerable" groups in the Province of North Brabant, including the elderly, migrants, and people living in rural areas and smaller communities.
Through this research, we can ensure that we can already reduce the initial barriers to self-driving transportation before encountering those vehicles "in the wild".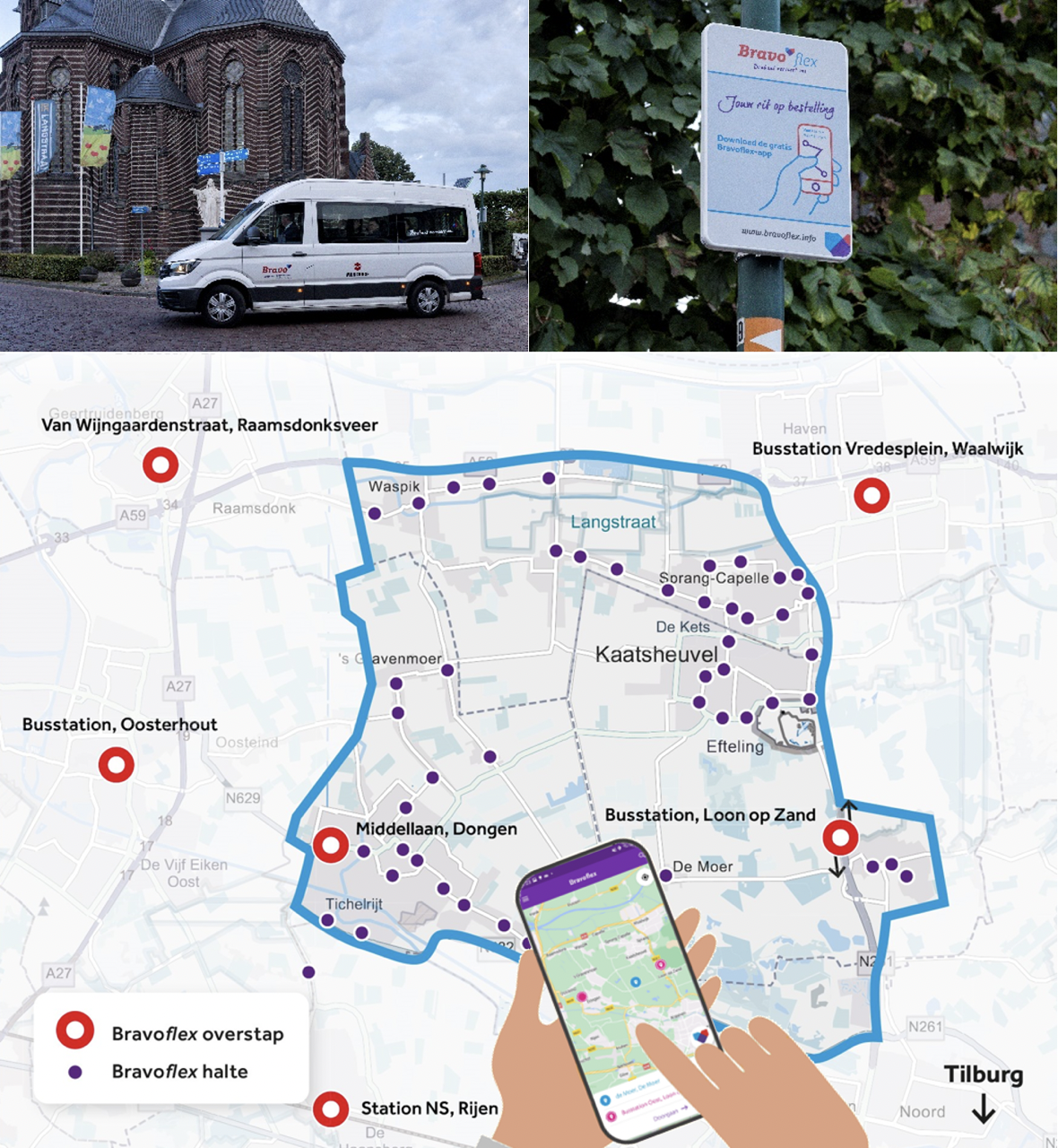 Bravoflex is an on-demand flexible transportation service that operates without a fixed route, moving from stop to (transfer) stop. Bravoflex does not have a fixed schedule. You can order Bravoflex through a mobile app or by making a phone call. You reserve a seat and decide when and from which stop you want to be picked up and to which (transfer) stop you want to travel. Reservation times and fares may vary from one municipality to another. Bravoflex is gradually being introduced in the province of North Brabant. Currently, Bravoflex is available in the following municipalities:
Loon op Zand, Dongen en Waalwijk
Moerdijk, Halderberge, Drimmelen en Altena
Bergen op Zoom
* Cooperative, connected and automated mobility
Keywords: #CCAM #RuralAreas #SINFONICA #Noord-Brabant #BravoFlex #SmartwayZ.NL